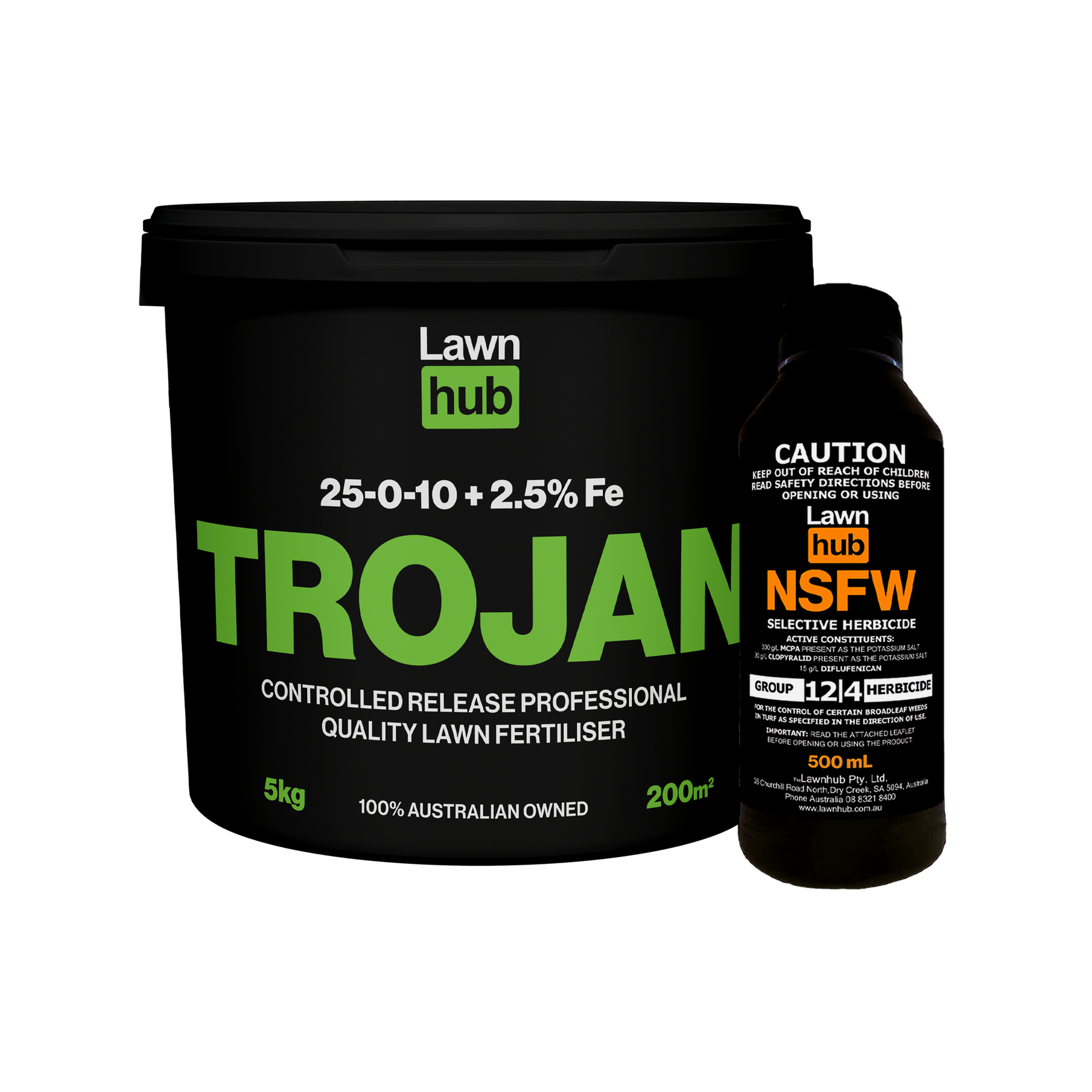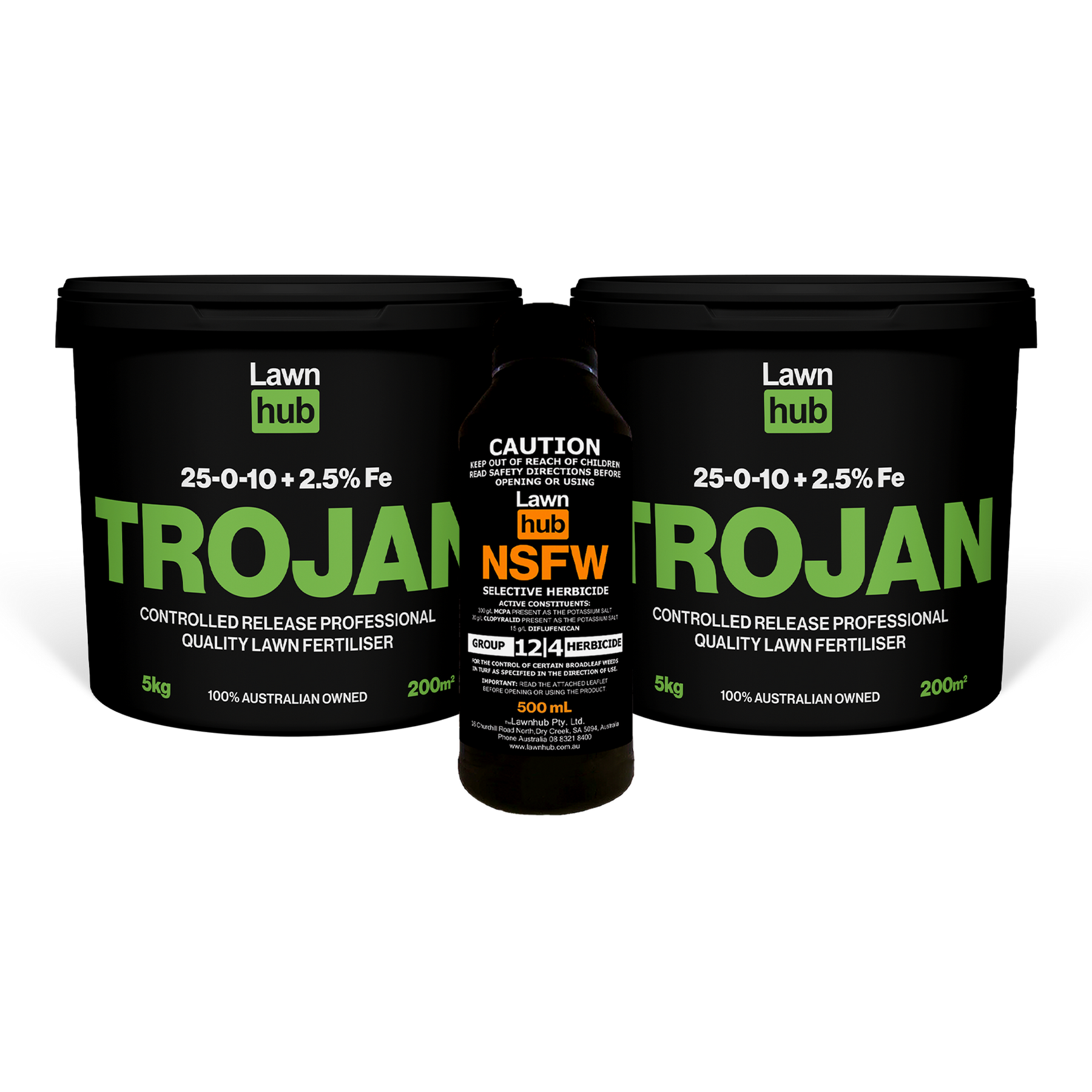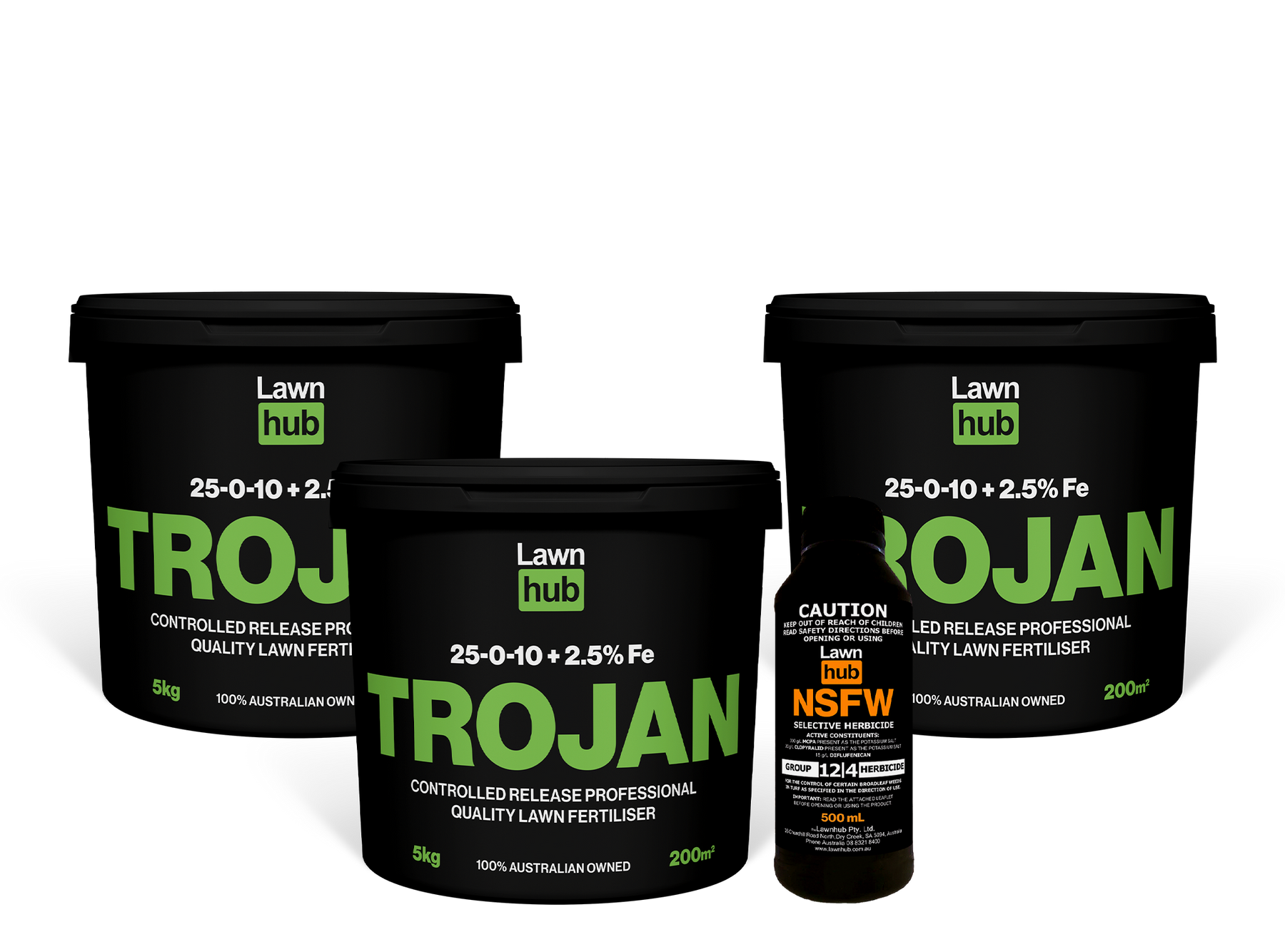 Weed and Feed Pack
Pickup available at Waterpro Dry Creek / Lawnhub
Usually ready in 24 hours
Weed and Feed Pack
Up To 200m2
Waterpro Dry Creek / Lawnhub
Pickup available, usually ready in 24 hours
36 Churchill Road North
Dry Creek SA 5094
Australia
+61883218400
Waterpro Kent Town
Pickup available, usually ready in 24 hours
20 King William Street
Kent Town SA 5067
Australia
+61883636050
Railways Landscape Supplies
Pickup available, usually ready in 24 hours
5 Sims Street
Old Reynella SA 5161
Australia
+61883218444
The best way to WEED & FEED your lawn is by doing both tasks separately. We've put the WEED & FEED pack together to make it super simple for homeowners to get access to professional products delivered direct to their door. You legitimately just need to add water!
Lawnhub Weed & Feed Pack Calendar
So what's in the pack?
Lawnhub TROJAN 5kg (The FEED part of the pack)
Lawnhub TROJAN is a custom blended professional quality granular slow release fertiliser. This is exactly the type of product the top golf course superintendents of Australia choose. The recommended application is 2.5kg/100m². Trojan will continue to feed your lawn for up to 12 weeks. This product is perfect for the home lawn fanatic. 
NSFW (The WEED part of the pack)
NSFW Herbicide for broadleaf weed control in turf is a formulation containing the active ingredients, MCPA as potassium salt, clopyralid as potassium salt and diflufenican. It is used at an application rate of 50ml per 100m2.
Broadleaf weeds including;
White Clover (Trifolium repens),
Plantain (Plantago lanceolata),
Capeweed (Arctotheca calendula),
Cat's ear (Hypochoeris radicata),
Bindii (Jo-Jo, Onehunga) (Soliva sessilis),
Cudweed (Gnaphalium spp.),
Creeping oxalis (Oxalis corniculata),
Benefits
High level of efficacy
One standard application rate
No volatility concerns
Superior turf safety (cool and warm season grasses)
A mix of active ingredients for improved resistance management
No odour
Additional surfactants not required
Current broadleaf turf herbicides have a tendency to cause rapid desiccation of weed leaves and shoots. Recovery may then occur from the significant root systems and/or other underground components of the weed. This unique three-way mixture provides extended weed control (season-long) in most situations.
Active Constituents:
20 g/L CLOPYRALID present as the potassium salt
15 g/L DIFLUFENICAN
300 g/L MCPA present as the potassium salt
Product & Pack
Application Rate is 50mL per 100 square metres
500mL pack treats 1000 square metres in total
Be sure to READ and FOLLOW the product label in FULL before using.
Q: Is this suitable for all turf varieties?
A: Yes.

Q: Can I use this pack on buffalo lawns?
A: Yes.

Q: Which order do I apply the products?
A: Apply the TROJAN first and water in, wait 10 days, then apply the BOW & ARROW as per the label.

Q: How long between applications?
A: Wait at least 10 days.

Q: Is it ok for use around pets and kids?
A: The lawn area is fine to use once TROJAN is watered in and BOW & ARROW is dry on the leaf. We recommend you wait 24 hours after applying to be safe.
Great product and delivered in a couple of days no complaints here
Love the product. Delivery was drawn out and confusing but no drama. Unfortunately one of the tubs of fertiliser had cracked, was not happy about that but what can you do, not worth the time and effort to chase up. Wish them well with a good product!
Good service arrived on time