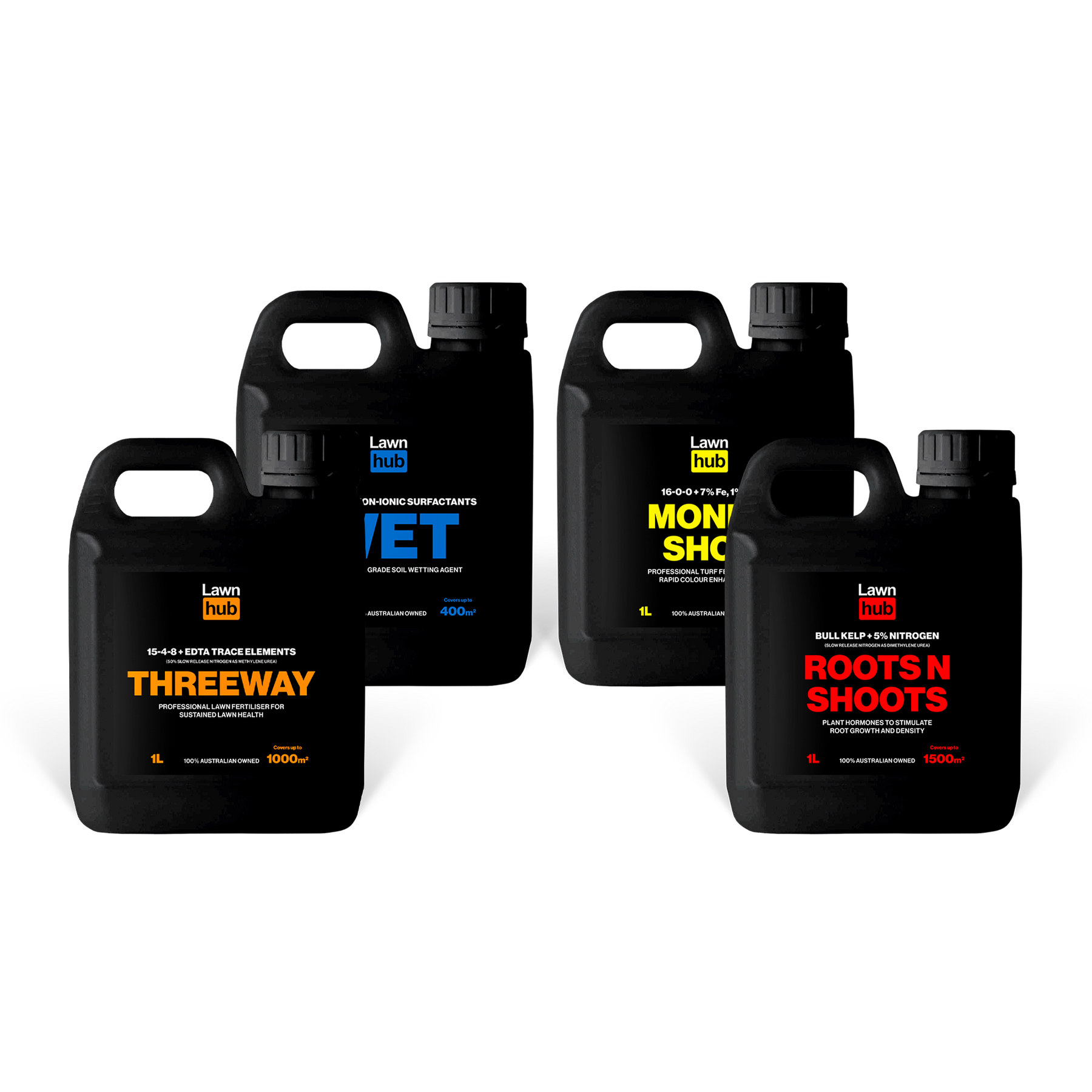 Lawn Spray Pack (For Pressure Sprayers)
Pickup available at Waterpro Dry Creek / Lawnhub
Usually ready in 24 hours
Lawn Spray Pack (For Pressure Sprayers)
Waterpro Dry Creek / Lawnhub
Pickup available, usually ready in 24 hours
36 Churchill Road North
Dry Creek SA 5094
Australia
+61883218400
Waterpro Kent Town
Pickup available, usually ready in 24 hours
20 King William Street
Kent Town SA 5067
Australia
+61883636050
Railways Landscape Supplies
Pickup available, usually ready in 24 hours
5 Sims Street
Old Reynella SA 5161
Australia
+61883218444
The Spray Pack is our collection for those of you with spraying equipment.

The pack includes ROOTS N SHOOTS, WET, MONEY SHOT and THREEWAY. 
Spray Pack is suitable for use year round. 
We recommend using ROOTS AND SHOOTS monthly all year round at the low end of the recommended rate, to keep a balanced amount of beneficial soil supplement available to our lawns. Apply at a rate of 60-100ml in 5-10L of water per 100m2.
WET is recommended for use between September and February every 10-12 weeks, although it is also beneficial to apply in April and August as your soil may still be hydrophobic after periods of dry weather (especially warmer climates during winter). Apply at a rate of 250-500ml in 5-10L of water per 100m2.
THREEWAY is our most versatile fertiliser that can be used as either a soil drench or as  foliar uptake. The trace elements are in EDTA chelated form, meaning they are readily available for uptake and in their most stable form. This will last 8 weeks in optimal conditions. Apply at a rate of 100-200ml in 5-10L of Water per 100m2.
MONEY SHOT is our answer to a dull looking lawn, apply 1 week before events or desired green up is required. The product is designed for rapid colour response or to rectify deficiencies and can be noticed within 4-6 hours on a healthy lawn. Apply at a rate of 200-400ml in 5-10L of water per 100m2.
We suggest that while ROOTS AND SHOOTS, THREEWAY and MONEY SHOT may all be tank mixed these products also may have increased efficacy on their own. Always test the products you are mixing in a jar with the correct ratio of water.
WET
Q: Do I need to water this in?
A: Yes. Straight away. 

ROOTS N SHOOTS
Q: Can I use it in my garden?
A: Yes.

THREEWAY
Q: Can I tank mix with Lawnhub Wet?
A: Yes.

MONEY SHOT
Q: Do I need to water this in?
A: No.
Awesome
I purchased these products and well 1 the shipping was very fast. As soon as they were delivered I started applying ROOTS N SHOOT, MONEY SHOT & THREEWAY. I waited a day then applied the WET followed by a water in. My lawn was lacking some colour but only 6 days after application, very little watering and 1 Mow with my cylinder mower it's looking amazing. This is a very good pack for taking your lawn from looking good to amazing. Photos are taken 6 days from the first application. Definitely recommend