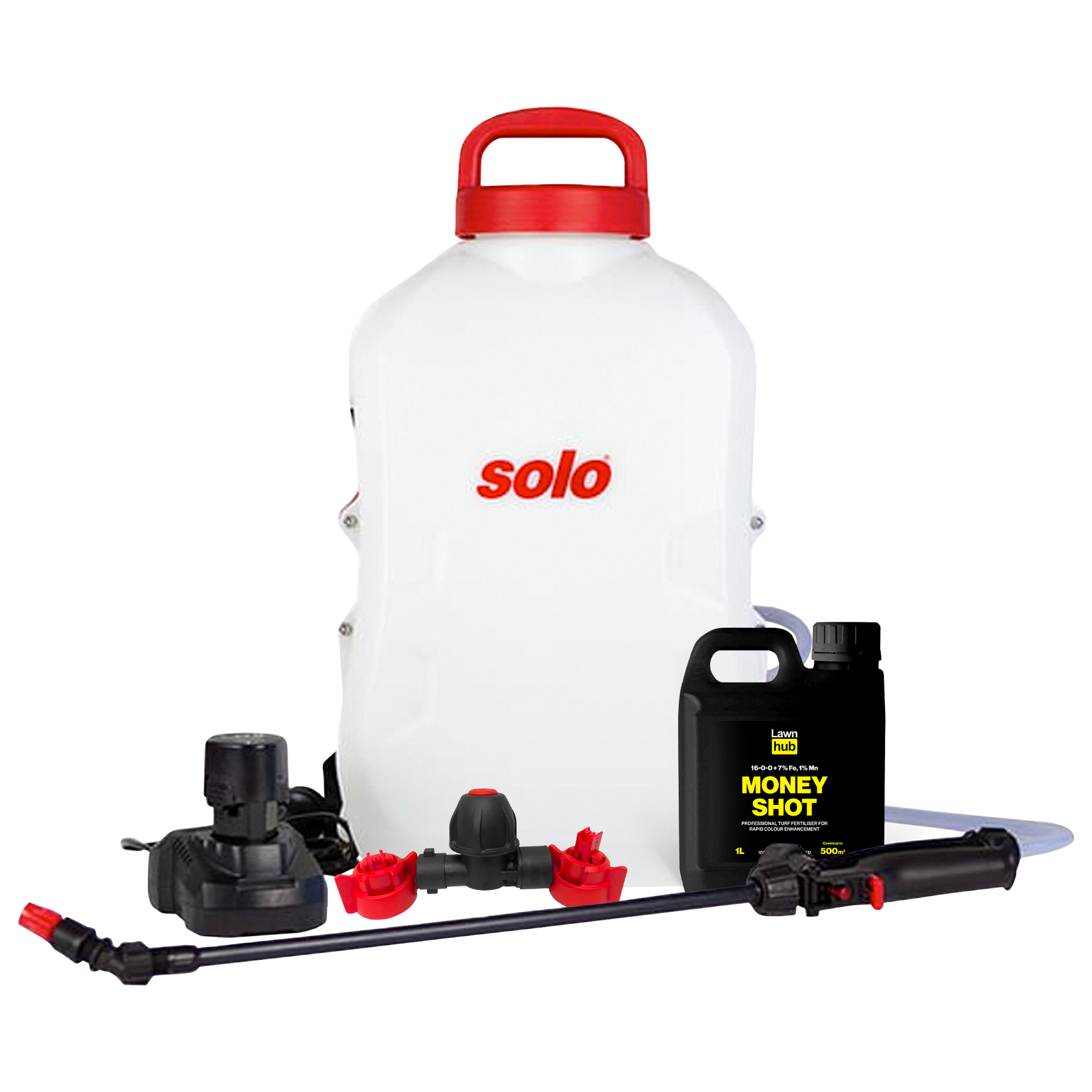 Solo 414 Li Battery 10L Backpack Pressure Sprayer + Nozzle Upgrade + MONEY SHOT
Pickup currently unavailable at Waterpro Dry Creek / Lawnhub
Solo 414 Li Battery 10L Backpack Pressure Sprayer + Nozzle Upgrade + MONEY SHOT
Waterpro Dry Creek / Lawnhub
Pickup currently unavailable
36 Churchill Road North
Dry Creek SA 5094
Australia
+61883218400
Solo 414 Li Battery 10L Backpack Pressure Sprayer + Nozzle Upgrade + MONEY SHOT
SOLO 414 10L Battery Backpack Sprayer
The SOLO 414 residential sprayers are lightweight and require no manual pumping; which makes an already-simple operation even simpler. Moreover, the unit incorporates a carrying system for your additional comfort. An easy grip shut-off valve reduces fatigue, while a battery compartment on the side of the sprayer allows for no-fuss removal of the Li-lo battery.
MODEL 414
Total capacity 10Litres
Voltage 10.8 V
Current flow 0.75 A
Battery capacity 2.5 Ah
Working time 3.5 hrs
Charging time 2.5 hrs
Flow 1.15 l/min
Output 241l
Net Weight 2.75 kg
Nozzle Upgrade Kit
This includes a 3/8" threaded anti drip body with both air induction nozzle and low drift 120 degree nozzle. Universal fittings caps and gasket to suit.
These nozzles will suit any sprayers with a 3/8" male thread on the wand.
Lawnhub MONEY SHOT 1L 
Lawnhub MONEY SHOT will make the grass greener on your side of the fence. MONEY SHOT is like a steroid for your lawn. You can apply this 5-7 days before a party or event and your friends will be green with MONEY SHOT.
MONEY SHOT is a foliar product which means it needs to be applied to the leaf of your lawn. Make sure you don't mow for at least 24 hours after applying.
The recommended application is 200-400mL per 100m². Add the MONEY SHOT to at least 5L of water and apply directly to the leaf of the lawn. Be careful not to get any MONEY SHOT on paving or cement. Its likely to stain.
Frequently Asked Questions
Q: Is this suitable for all turf varieties?
A: Yes.
Q: Do I need to water this in?
A: No.
Awesome
This would have to be the best purchase. It changes everything, for spraying my lawn, with the upgraded nozzle makes it a breeze. It is worth the money, and no fighting with manual pump sprayer.
Game changer
After messing around with 5L hand pump sprayer's for years I bit the bullet and bought this unit. It's the best money I've spent for my lawn. The ease of spraying large areas is amazing. Battery lasts ages and 10L tank is much better. Should have bought it years ago. Also bought the upgraded spray heads. Well worth the extra dollars.