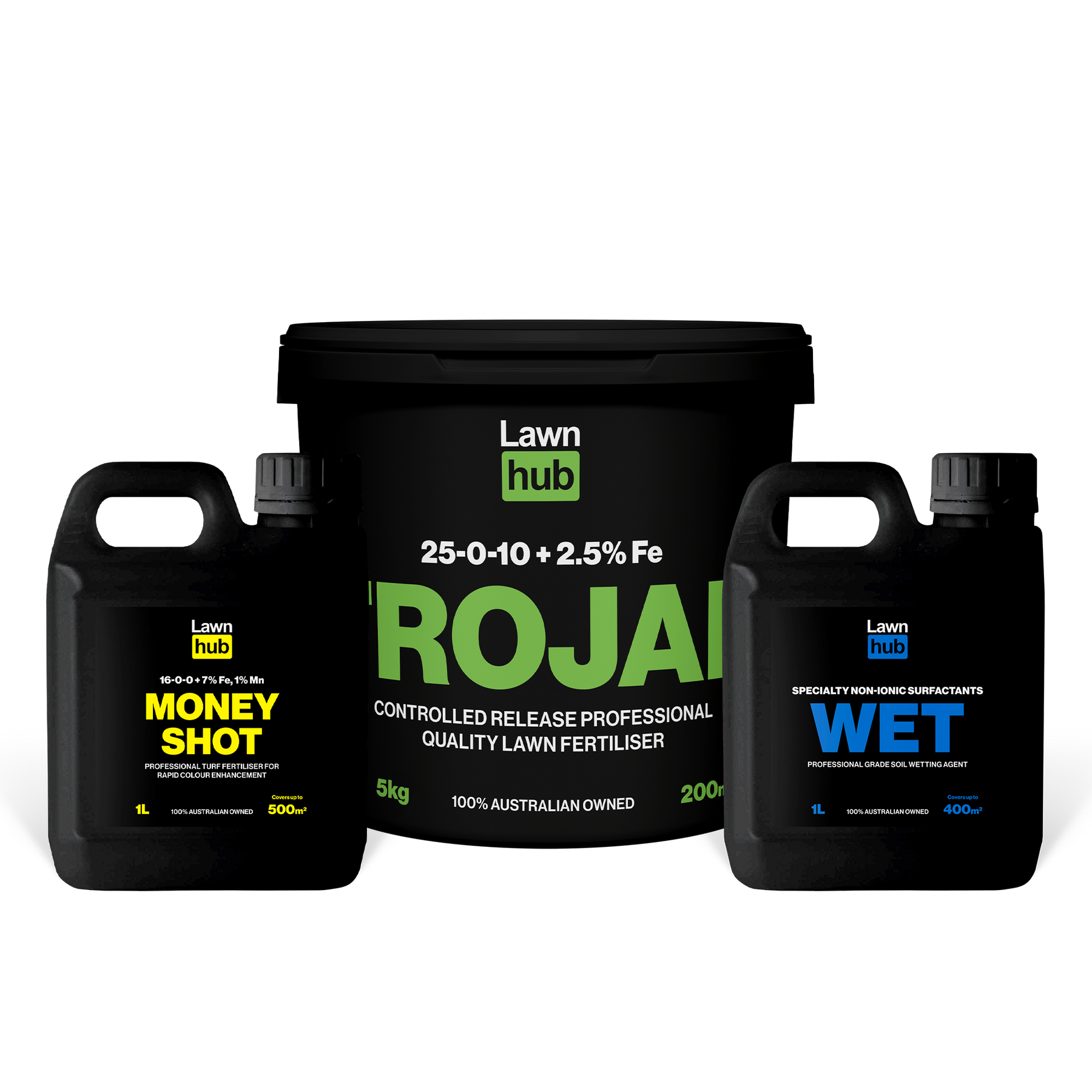 Lawn Care Party Pack + (Pre Events)
Pickup available at Waterpro Dry Creek / Lawnhub
Usually ready in 24 hours
Lawn Care Party Pack + (Pre Events)
Waterpro Dry Creek / Lawnhub
Pickup available, usually ready in 24 hours
36 Churchill Road North
Dry Creek SA 5094
Australia
+61883218400
Waterpro Kent Town
Pickup available, usually ready in 24 hours
20 King William Street
Kent Town SA 5067
Australia
+61883636050
Railways Landscape Supplies
Pickup available, usually ready in 24 hours
5 Sims Street
Old Reynella SA 5161
Australia
+61883218444
Similar to a Party Pack, only better. This combination will prepare your patch of lawn perfectly prior to the party.
The Party Pack Plus contains TROJAN, WET and MONEY SHOT.
Simply apply the WET as soon as you can. The wetting agent needs to be watered in well. Then apply the TROJAN 2-4 weeks before the big event, water in and mow regularly. Apply MONEY SHOT 5-7 days directly to the leaf of the lawn as foliar feed before the big event for a lush deep dark green lawn.
EACH PRODUCTS INDIVIDUAL INFO BELOW
TROJAN
Lawnhub Trojan is a custom blended professional quality granular slow release fertiliser.
This is exactly the type of product the top golf course superintendents of Australia choose.
The recommended application is 2.5kg/100m². Trojan will continue to feed your lawn for up to 12 weeks.
This product is perfect for the home lawn fanatic.
 WET
Its vital to retain moisture in your soil profile if you want to grow a lush lawn.
Lawnhub WET is used to improve the retention and distribution of moisture in fine cut turf surfaces.
Professional turf managers apply products like WET during Spring and Summer to give their lawn the best chance of being perfect.
WET's specialty non-ionic surfactant formulation improves moisture retention
Lasts up to 3 months
Encourages more even growth
Exceptional turf safety due to non-burn formulation
MONEY SHOT
Lawnhub MONEY SHOT will make the grass greener on your side of the fence. Money Shot is like a steroid for your lawn. You can apply this 5-7 days before a party or event and your friends will be green with MONEY SHOT.
Money Shot is a foliar product which means it needs to be applied to the leaf of your lawn. Make sure you don't mow for at least 24 hours after applying.
The recommended application is 200-400mL per 100m². Add the Money Shot to at least 5L of water and apply directly to the leaf of the lawn. Be careful not to get any Money Shot on paving or cement as it is likely to stain.
TROJAN
Q: Do I need to water this in?
A: Yes. Straight away.
Q: Is it safe with pets?
A: Yes. Provided you ensure this product is not spread during windy conditions and it is watered in well straight away.
Q: Is this suitable for all turf varieties?
A: Yes.

MONEY SHOT
Q: Do I need to water this in?
A: No.

WET
Q: Do I need to water this in?
A: Yes. Straight away.