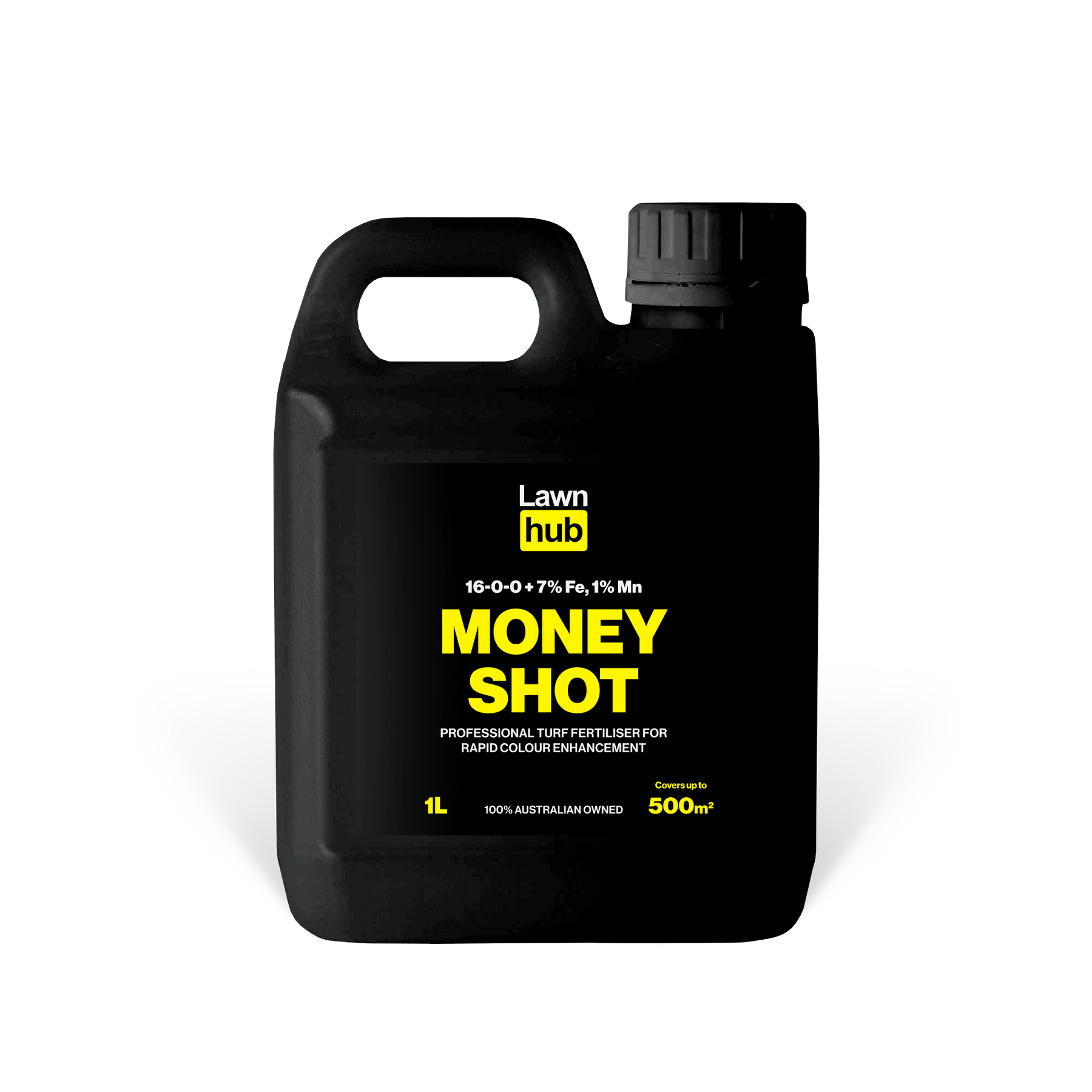 Money Shot 1L Lawn Fertiliser- Premium Lawn Greener
Pickup available at Waterpro Dry Creek / Lawnhub
Usually ready in 24 hours
Money Shot 1L Lawn Fertiliser- Premium Lawn Greener
Waterpro Dry Creek / Lawnhub
Pickup available, usually ready in 24 hours
36 Churchill Road North
Dry Creek SA 5094
Australia
+61883218400
Waterpro Kent Town
Pickup available, usually ready in 24 hours
20 King William Street
Kent Town SA 5067
Australia
+61883636050
Railways Landscape Supplies
Pickup available, usually ready in 24 hours
5 Sims Street
Old Reynella SA 5161
Australia
+61883218444
MONEY SHOT
Lawnhub MONEY SHOT will make the grass greener on your side of the fence. Money Shot is like a steroid for your lawn. You can apply this 5-7 days before a party or event and your friends will be green with MONEY SHOT.
Money Shot is a foliar product which means it needs to be applied to the leaf of your lawn. Make sure you don't mow for at least 24 hours after applying.
The recommended application is 200-400mL per 100m². Add the Money Shot to at least 5L of water and apply directly to the leaf of the lawn. Be careful not to get any Money Shot on paving or cement as it is likely to stain.
𝗤: 𝗗𝗼 𝗜 𝗻𝗲𝗲𝗱 𝘁𝗼 𝘄𝗮𝘁𝗲𝗿 𝘁𝗵𝗶𝘀 𝗶𝗻?
𝗔: No.

𝗤: 𝗖𝗮𝗻 𝗜 𝘂𝘀𝗲 𝗠𝗢𝗡𝗘𝗬 𝗦𝗛𝗢𝗧 𝗼𝗻 𝗺𝘆 𝗸𝗶𝗸𝘂𝘆𝘂?
𝗔: You can use MONEY SHOT on all lawn varieties.

𝗤: 𝗖𝗮𝗻 𝗜 𝗮𝗽𝗽𝗹𝘆 𝘁𝗵𝗶𝘀 𝗮𝗹𝗹 𝘆𝗲𝗮𝗿 𝗿𝗼𝘂𝗻𝗱?
𝗔: Yes.

𝗤: 𝗪𝗵𝗲𝗻 𝘀𝗵𝗼𝘂𝗹𝗱 𝗜 𝗮𝗽𝗽𝗹𝘆 𝗠𝗢𝗡𝗘𝗬 𝗦𝗛𝗢𝗧
𝗔: For the best results, apply 5 - 7 days before an event in the cooler part of the day.

𝗤: 𝗖𝗮𝗻 𝗜 𝗺𝗼𝘄 𝘀𝘁𝗿𝗮𝗶𝗴𝗵𝘁 𝗮𝘄𝗮𝘆?
𝗔: Avoid mowing for 24 hours after applying MONEY SHOT.
Results speak for themselves
Bought some money shot because my lawn was lacking the colour it's had previous years and wasn't disappointed - it's looking bright and healthy :)
Extra green
Gave a great green boost when needed. Will definitely be applying again leading into summer events outside.
Great deep green
Great product for achieving deep green colour works super fast, results in days to a week. Foliar iron and fert keeps my lawn looking great.