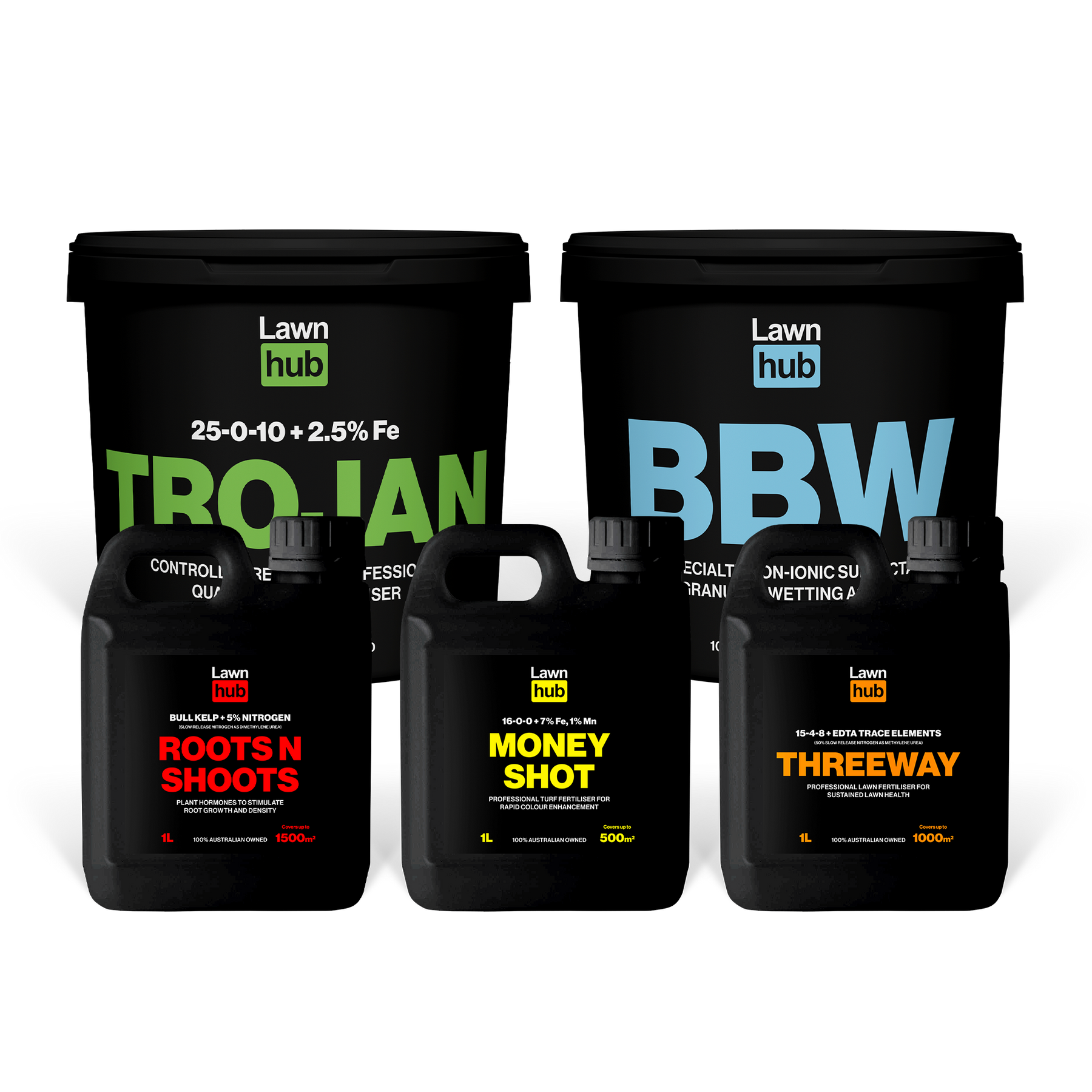 Dry College Party Pack (Lawn Fertiliser Pack)
Pickup available at Waterpro Dry Creek / Lawnhub
Usually ready in 24 hours
Dry College Party Pack (Lawn Fertiliser Pack)
Waterpro Dry Creek / Lawnhub
Pickup available, usually ready in 24 hours
36 Churchill Road North
Dry Creek SA 5094
Australia
+61883218400
Waterpro Kent Town
Pickup available, usually ready in 24 hours
20 King William Street
Kent Town SA 5067
Australia
+61883636050
Railways Landscape Supplies
Pickup available, usually ready in 24 hours
5 Sims Street
Old Reynella SA 5161
Australia
+61883218444
The Dry College Party Pack Contains 1 x Trojan 5kg, 1 x BBW Granular 3kg, 1 x Threeway 1L, 1 x Money Shot 1L & 1 x Roots N Shots 1L.

Below is a program you can use to help understand what to apply when.
Lawnhub Dry College Party Pack Calendar
EACH PRODUCTS INDIVIDUAL INFO BELOW
TROJAN
Lawnhub Trojan is a custom blended professional quality granular slow release fertiliser. This is exactly the type of product the top golf course superintendents of Australia choose. The recommended application is 2.5kg/100m². Trojan will continue to feed your lawn for up to 12 weeks. This product is perfect for the home lawn fanatic.
BBW
Lawnhub BBW is a professional quality granular wetting agent. This is exactly the type of product that top golf course superintendents of Australia choose. The recommended application is 1.5kg/100m2. Apply evenly to existing or new lawn. It is not necessary to water this product in. The wetting agent will be released upon irrigation or a rain event. BBW will continue to help water evenly penetrate your soil profile for up to 12 weeks.
THREEWAY
Threeway is a product we developed in conjunction with our good friend Simon Rice. LawnHub has come up with an ideal NPK formulation with the added benefit of trace elements that is perfect for use as a maintenance fertiliser. Threeway looks beyond aesthetics and delivers exactly what the lawn needs to be as healthy as possible.
There are three great things about Threeway.
1. It can be applied a foliar fertiliser or a soil drench.
2. The Nitrogen component is 50% Methylene Urea and is controlled release for up to 8 weeks.
3. The trace elements are in EDTA chelated form. This is an extremely stable form and optimized for uptake through leaves and roots.
If you are using this product as a foliar fertiliser, ensure sufficient soil moisture levels and simply mix 200ml with 10L of water and spray on the leaf of the grass. This mix will cover 100m2. If applying as a foliar fertiliser, make sure you delay mowing for at least 24 hours post application.
If you choose to use as a drench fertiliser, mix 800ml with 20L of water apply to the lawn and water in well.
MONEY SHOT
Lawnhub MONEY SHOT will make the grass greener on your side of the fence. Money Shot is like a steroid for your lawn. You can apply this 5-7 days before a party or event and your friends will be green with MONEY SHOT.
Money Shot is a foliar product which means it needs to be applied to the leaf of your lawn. Make sure you don't mow for at least 24 hours after applying.
The recommended application is 200-400mL per 100m². Add the Money Shot to at least 5L of water and apply directly to the leaf of the lawn. Be careful not to get any Money Shot on paving or cement as it is likely to stain.
ROOTS N SHOOTS
ROOTS N SHOOTS can be used as a soil or foliar applied supplement in a regular nutrition program for turf. Multiple applications may be needed throughout the season especially during periods of stress. The application rate may need to be varied with changes in turf variety and use.
ROOTS N SHOOTS is a product that contains a powerful concentration of kelp for the promotion of root and shoot development.This highly concentrated liquid BULL KELP combined with slow release nitrogen in a DiMethylene Urea (DMU) form increases leaf adheration and uptake, also decreases leaching from soil. When combined with a standard fertilizer regime, significant plant growth advantages are obtainable.
Mix 60-100mL of ROOTS N SHOOTS with between 6-10L of water/100m² of actively growing lawn and apply during early morning or late afternoon to reduce evaporation. Do not spray when windy.
TROJAN
Q: Do I need to water this in?
A: Yes. Straight away.
Q: Is it safe with pets?
A: Yes. Provided you ensure this product is not spread during windy conditions and it is watered in well straight away.
Q: Is this suitable for all turf varieties?
A: Yes.
 
BBW
Q: Is this suitable for all turf varieties?
A: Yes.

ROOTS N SHOOTS
Q: Can I use it in my garden?
A: Yes.

THREEWAY
Q: Can I tank mix with Lawnhub Wet?
A: Yes.

MONEY SHOT
Q: Do I need to water this in?
A: No.
Great products, do what they say they will. Highly recommend
Lawn Porn Incoming 👀
Awesome stuff to use! Applied Trojan and BBW approx 1 week prior to topdressing and the results after 2 days are insane!
Also applied Roots N Shoots a day before topdressing and the lawn is coming along nicely! Seems to have really helped with the recovery! Would definitely recommend 100%.
Getting some lawn envy
I'm only a week into this routine and it is already making a difference. Lawn is thicker and greener just from the Trojan and BBW. Applied the Roots and Shoots spray today, and looking forward to hitting it with the Bow and Arrow on the weekend. So far, so good.
Easy peasy
Order arrived promptly. Easy to follow instructions on container and information via the "calendar " which I have laminated as I know it will get lots of use. Rains came overnight, so looking forward to lush lawn very soon
Best stuff out there
Great products which always produce quality results. Cannot recommend enough.