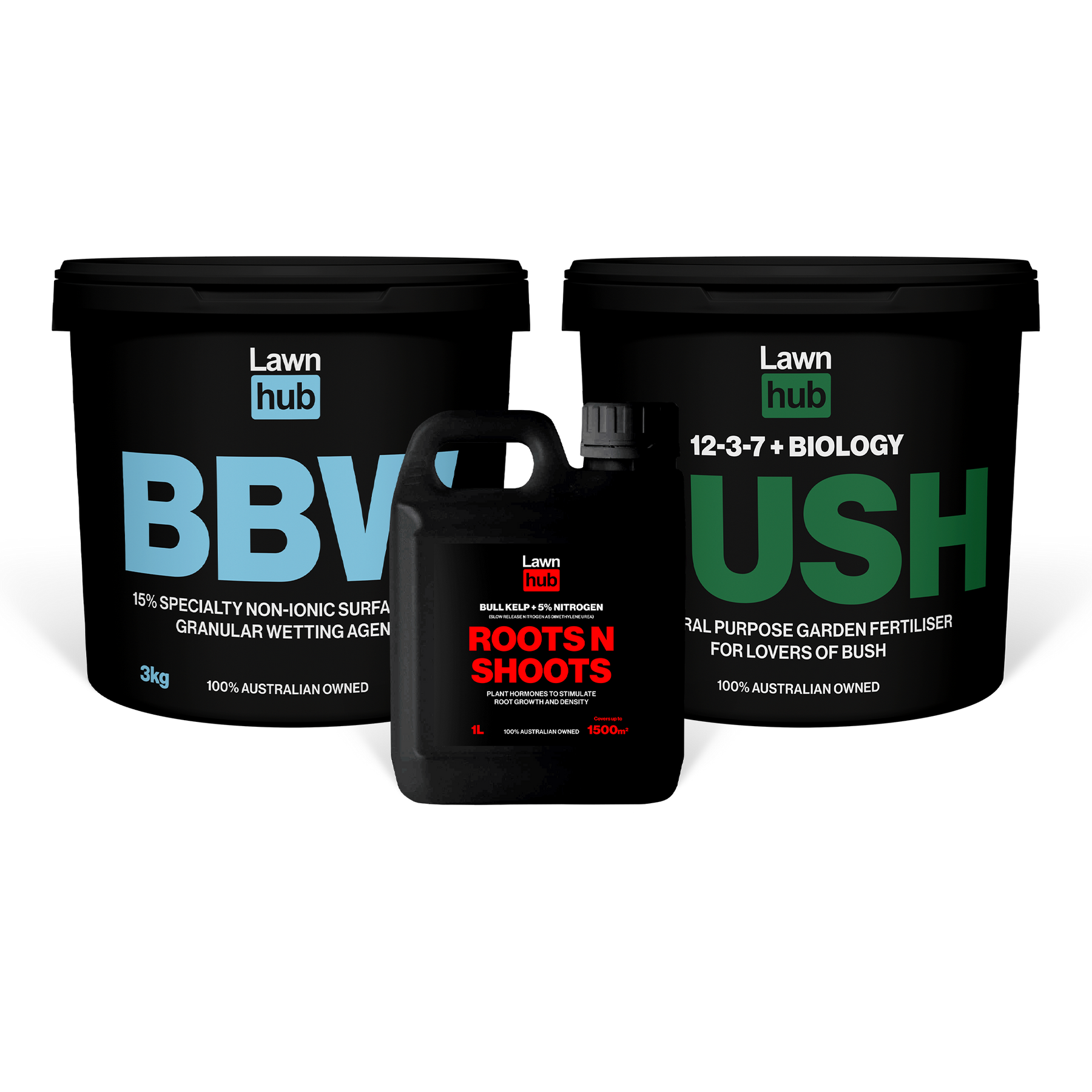 Bush Gone Wild Garden Fertiliser Pack
Pickup available at Waterpro Dry Creek / Lawnhub
Usually ready in 24 hours
Bush Gone Wild Garden Fertiliser Pack
Waterpro Dry Creek / Lawnhub
Pickup available, usually ready in 24 hours
36 Churchill Road North
Dry Creek SA 5094
Australia
+61883218400
Waterpro Kent Town
Pickup available, usually ready in 24 hours
20 King William Street
Kent Town SA 5067
Australia
+61883636050
Railways Landscape Supplies
Pickup available, usually ready in 24 hours
5 Sims Street
Old Reynella SA 5161
Australia
+61883218444
The Lawnhub Bush Gone Wild Pack is the complete garden fertiliser pack. It contains a tub of Bush, Trojan and BBW.
Lawnhub Bush Garden Fertiliser 12:3:7+Biology 5kg
Lawnhub BUSH is a professional quality general purpose garden fertiliser proudly made in Australia.
It combines modern state of the art technology with traditional fertiliser technology, resulting in a balanced, cost effective landscape and garden fertiliser.
BUSH provides faster, longer lasting complete nutrition, creating strong consistent growth over mixed soil types and robust plants to tolerate varied environmental conditions.
Long term benefits include: Improved soil conditions from biological activity, compaction relief, deeper root growth.
Sprinkle 15-25 grams per m² every 8-12 weeks or as required and water in well.
BUSH comes with a plastic scoop that holds approx 75 grams.
 ROOTS N SHOOTS can be used as a soil or foliar applied supplement in a regular nutrition program for turf. Multiple applications may be needed throughout the season especially during periods of stress. The application rate may need to be varied with changes in turf variety and use.
ROOTS N SHOOTS is a product that contains a powerful concentration of kelp for the promotion of root and shoot development. This highly concentrated liquid BULL KELP combined with slow release nitrogen in a DiMethylene Urea (DMU) form increases leaf adheration and uptake, also decreases leaching from soil. When combined with a standard fertilizer regime, significant plant growth advantages are obtainable.
Mix 60-100mL of ROOTS N SHOOTS with between 6-10L of water/100m² of actively growing lawn and apply during early morning or late afternoon to reduce evaporation. Do not spray when windy.
Lawnhub BBW
Lawnhub BBW is a professional quality granular wetting agent. This is exactly the type of product that top golf course superintendents of Australia choose. The recommended application is 1.5kg/100m2. Apply evenly to existing or new lawn. It is not necessary to water this product in. The wetting agent will be released upon irrigation or a rain event. BBW will continue to help water evenly penetrate your soil profile for up to 12 weeks.
BUSH
Q: Is this okay for natives?
A: Yes.
TROJAN
Q: Do I need to water this in?
A: Yes. Straight away.
Q: Is it safe with pets?
A: Yes. Provided you ensure this product is not spread during windy conditions and it is watered in well straight away.
Q: Is this suitable for all turf varieties?
A: Yes.
BBW
Q: Is this suitable for all turf varieties?
A: Yes.

Great Bundle
Looks like a great bundle to use, have applied the BBW and look forward to the results. Waiting for a bit of rain to apply BUSH but keen to see the results. Good NPK ratio. The ROOTS N SHOOTS is a bonus so that'll be used soon too.
Great service from Lawnhub, products look good with easy to use instructions.