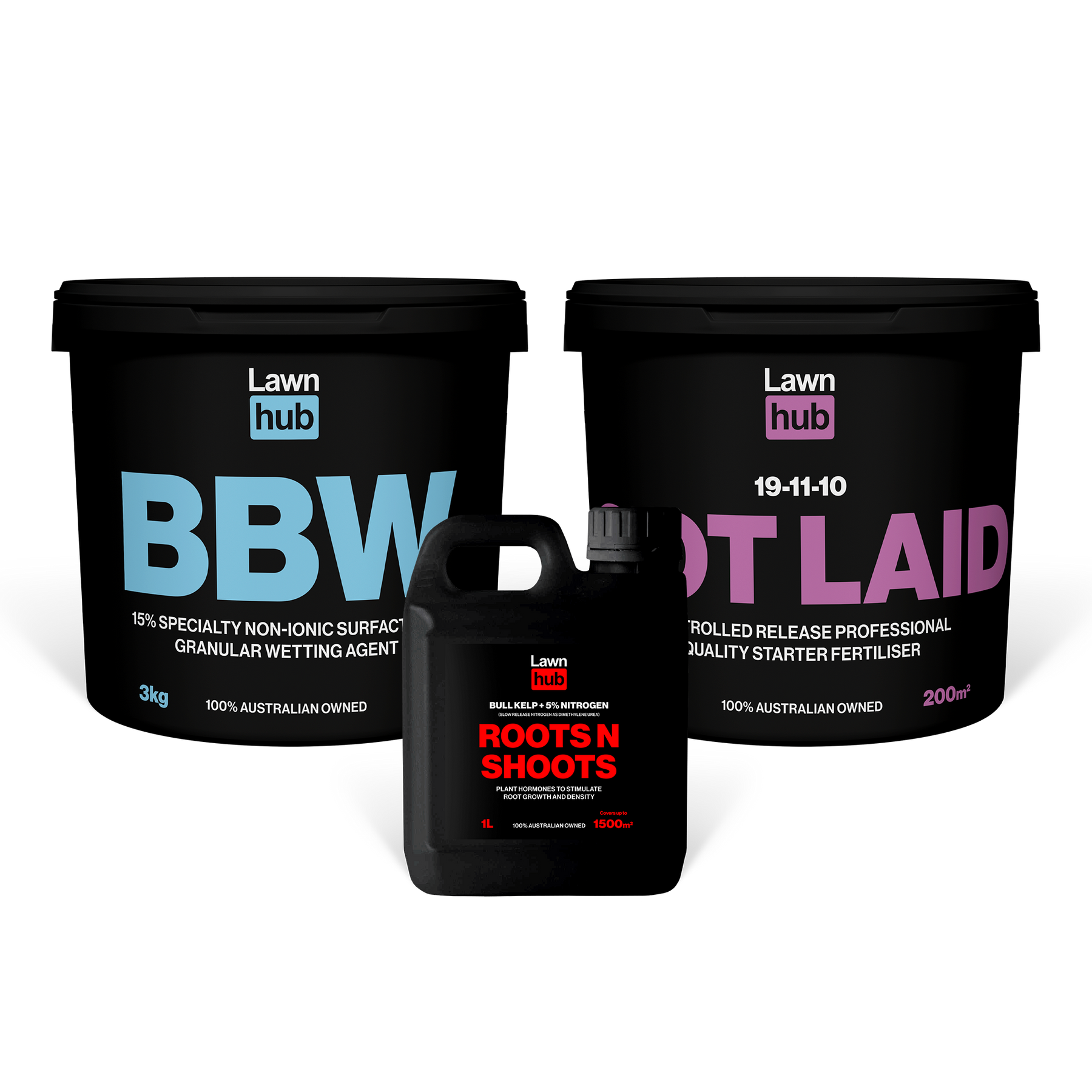 Cherry Popper Pack (New Lawn Fertiliser)
Pickup available at Waterpro Dry Creek / Lawnhub
Usually ready in 24 hours
Cherry Popper Pack (New Lawn Fertiliser)
Waterpro Dry Creek / Lawnhub
Pickup available, usually ready in 24 hours
36 Churchill Road North
Dry Creek SA 5094
Australia
+61883218400
Waterpro Kent Town
Pickup available, usually ready in 24 hours
20 King William Street
Kent Town SA 5067
Australia
+61883636050
Railways Landscape Supplies
Pickup available, usually ready in 24 hours
5 Sims Street
Old Reynella SA 5161
Australia
+61883218444
If you are about to lay a new lawn you want to give it the best possible start. The Cherry Popper pack consists of GOT LAID, a professional granular starter fertiliser and BBW, a granular wetting agent and a bottle of Roots and Shoots.
Simply spread out when laying your new lawn and water in well.
Below is a program you can use to help understand what to apply when.
Lawnhub Cherry Popper Pack Calendar
 Individual Product Information
Lawnhub GOT LAID is a custom blended professional quality granular fertiliser.
This is exactly the type of product the top golf course superintendents of Australia choose.
The recommended application is 2.5kg/100m². Be sure to water this in straight away.
Got Laid will give your new lawn the nutrients it needs for dense root growth and even leaf growth.
This product is perfect for the home lawn fanatic looking for rapid turf establishment.
Lawnhub BBW is a professional quality granular wetting agent. This is exactly the type of product that top golf course superintendents of Australia choose. The recommended application is 1.5kg/100m2. Apply evenly to existing or new lawn. It is not necessary to water this product in. The wetting agent will be released upon irrigation or a rain event. BBW will continue to help water evenly penetrate your soil profile for up to 12 weeks.
Lawnhub ROOTS N SHOOTS can be used as a soil or foliar applied supplement in a regular nutrition program for turf. Multiple applications may be needed throughout the season especially during periods of stress. The application rate may need to be varied with changes in turf variety and use.
ROOTS N SHOOTS is a product that contains a powerful concentration of kelp for the promotion of root and shoot development. This highly concentrated liquid BULL KELP combined with slow release nitrogen in a DiMethylene Urea (DMU) form increases leaf adheration and uptake, also decreases leaching from soil. When combined with a standard fertilizer regime, significant plant growth advantages are obtainable.
Mix 60-100mL of ROOTS N SHOOTS with between 6-10L of water/100m² of actively growing lawn and apply during early morning or late afternoon to reduce evaporation. Do not spray when windy.
Great combination!
Used when I sowed my backyard with Monaco couch and had it germinating from day 6 after applying roots and shoots day 7 germination and growth took off!
Amazing combo
I got this pack for my newly laid tiff tiff 6 weeks ago and also used it on my already established front yard kikuyu when I did a renovation at the same time.
The result are amazing. 6 weeks apart!
Wow, what a great pack!
We laid turf three weeks ago, I started the new lawn program with these products and my gosh, I have never seen root growth like this before, the grass is so green and lush, with new lawn seeds sprouting within the first few days. Incredible few products and work like magic together!
Great product. Fast shipping