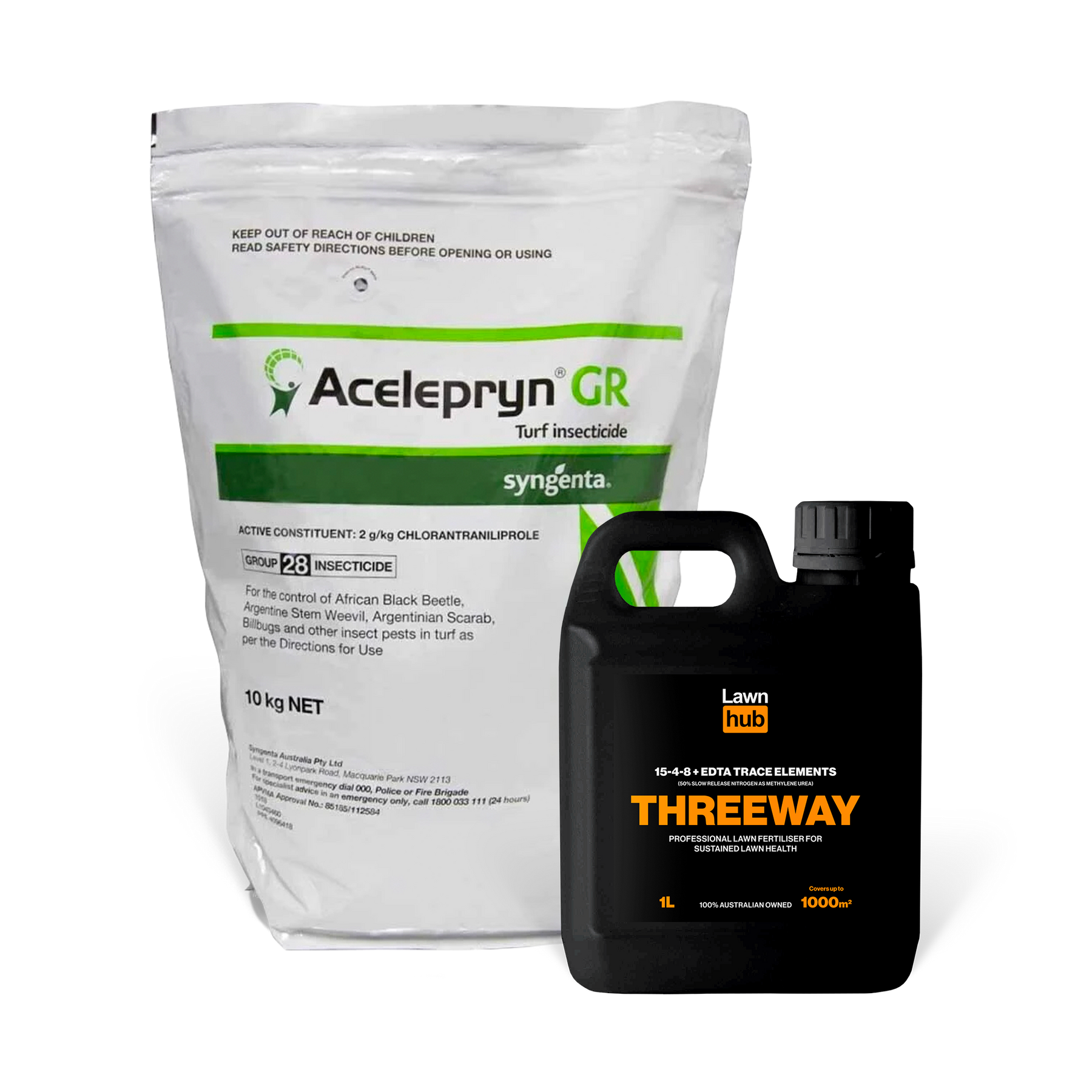 Killer Threeway Pack (Acelepryn GR 10kg + Threeway Lawn Fertiliser 15:4:8 + Trace Elements 1L)
Pickup available at Waterpro Dry Creek / Lawnhub
Usually ready in 24 hours
Killer Threeway Pack (Acelepryn GR 10kg + Threeway Lawn Fertiliser 15:4:8 + Trace Elements 1L)
Waterpro Dry Creek / Lawnhub
Pickup available, usually ready in 24 hours
36 Churchill Road North
Dry Creek SA 5094
Australia
+61883218400
The Killer Threeway pack contains 1 x Acelepryn GR 10kg and 1 x Threeway Lawn Fertiliser 15:4:8 + Trace Elements 1L.

ACELEPRYN Insecticide provides unmatched, season long grub and caterpillar control in a single application. It is now available in a convenient and flexible granule formulation. 
ACELEPRYN GR. The efficiency and longevity of performance means your turf spaces are protected for longer and because it is exempt from poison scheduling, PPE requirements for workers are reduced.
This new no-spray option means ease of use and minimal disruption to the community.
ACELEPRYN GR controls a wide range of insect pests including African Black Beetle, Argentinian Scarab, Billbugs and several species of caterpillars including Cutworm, Sod Webworm and Lawn Armyworm.
 Application rate: 1.5kg per 100sqm
-----------------------------------
THREEWAY is a product we developed in conjunction with our good friend Simon Rice. Lawnhub has come up with an ideal NPK formulation with the added benefit of trace elements that is perfect for use as a maintenance fertiliser. Threeway looks beyond aesthetics and delivers exactly what the lawn needs to be as healthy as possible.
Application rate: 100-200ml per 100sqm
Q: Is this suitable for all turf varieties?
A: Yes

Q: Do I need to water this in?
A: Yes. Straight away.

Q: Is it safe with pets?
A: Yes. Provided you ensure this product is not spread during windy conditions and it is watered in well straight away.
Amazing Product
Came nice and quick in time for my renovation, unreal product
Killer three way pack
As the packs is called the acelepryn works a treat still seeing the occasional grub surfacing , and the threeway gave the lawn some nutrients it must have been lacking I wasn't expecting it to green up as much as it has with the low recomended dose this time of the year it is a killer pack thanks